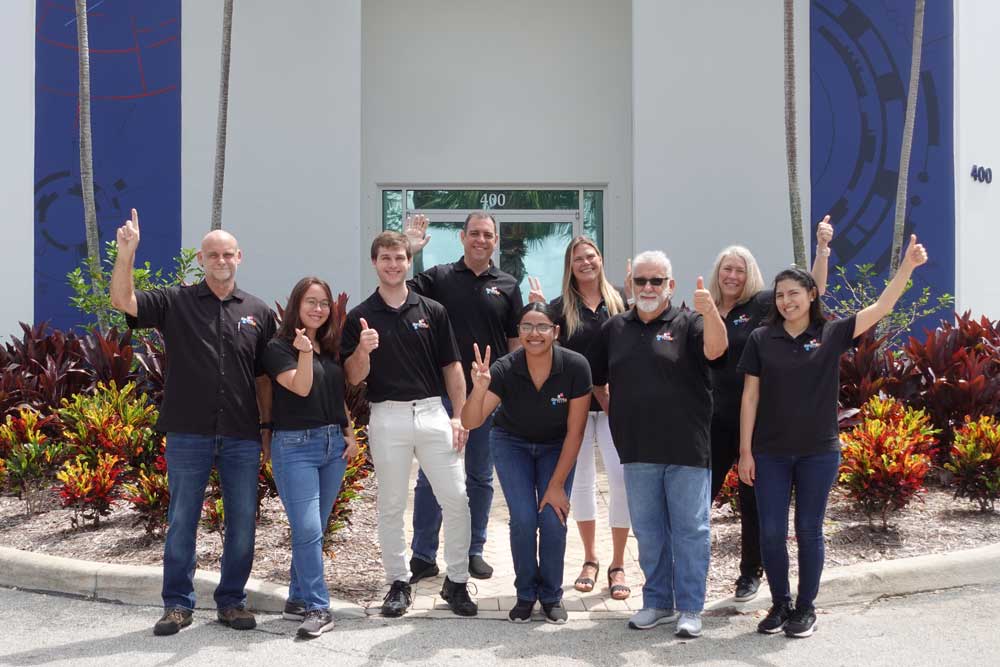 BocaComputer.com is owned and operated by Daruma Tech, LLC. The website is managed by Daruma's Network Support team which provides IT services to local businesses.
Daruma is a full-service provider of managed IT services, solutions and consulting in application development, cloud computing services, enterprise data management, systems engineering, networking, and hardware deployment.
Daruma is a Microsoft Gold Certified Partner with gold competency in application development. Out of more than 650,000 Microsoft partners, only an estimated 1 percent have achieved a gold competency. It's the top tier for non-alliance partners within the Microsoft Partner Network and requires the highest level of competence and expertise with Microsoft technologies. Gold Certified partners have the closest working relationship with Microsoft and are required to maintain certified developers and maintain a high degree of customer satisfaction.
Daruma maintains an ISO 2001:2013 Security Certification and an ISO 20000-1:2011 certification for Service Management System (SMS) standard pertaining to the design, transition, delivery, and improvement of services to fulfil agreed service requirements.
Daruma Tech was founded by Robert Kennedy and Susan Erickson in 2013 and is currently located in the Research Park at Florida Atlantic University. The company frequently collaborates with University staff on local projects. Daruma provides paid internships to local university students who gain practical knowledge for future careers in IT. The company provides services to private, public, government and non-profit organizations.
Capabilities
Managed Services & Cloud Services– Daruma Tech has experience designing, deploying, and managing solutions for on-premise and cloud infrastructure. Our networking team provides 24x7x365 monitoring and support. Expertise includes Windows, Linux, Apple and all of the major cloud platforms including AWS, Azure, and Google. Our Azure hosted web apps have an SLA of 99.99% uptime.
Technology expertise:
Amazon Web Services (AWS)
Microsoft Azure
Google Cloud Platform
Private & Hybrid Cloud Solutions
Web Development + Design – From Open Source Content Management System (CMS) based website to custom plugins, we offer a suite of services that can be tailored to meet the specific requirements of any business. We specialize in attractive websites that look amazing and are easy to navigate and work well across all devices including mobile. Our goal is to offer an affordable solution to your web design needs, without ever compromising on the quality of the service you receive.
Technology expertise:
CMS expertise: WordPress, Joomla, Drupal, OrchardCMS, DotNetNuke, SharePoint
E-commerce expertise: Magento, nopCommerce, AspDotNetStoreFront, WooCommerce
Internet Explorer, Edge
Digital Marketing – Daruma Tech is a Google Certified Partner. We can help manage your online presence across all channels including social media, mobile marketing, content development, and pay per click (PPC). Our digital marketing experts help ensure all your apps, websites and social media pages are working together to give you an edge in the marketplace. Our multichannel marketing portals give you the power to get more done faster, and Business Intelligence (BI) dashboards give you a more complete picture of customer behavior and market trends.
Technology expertise:
Search Advertising, Mobile, Video, Display, Shopping, Social
Google AdWords, Bing, Facebook, Yelp
Constant Contact, MailChimp, Amazon SES, SendGrid, VerticalResponse
Google Analytics, Power BI, Third Party Analytics integration
Custom Software Development – Daruma Tech's designs, builds and supports custom software applications. The company excels at developing unique and cost-effective solutions and delivering projects on time and within budget.
Technology expertise:
Amazon Web Services (AWS)
Microsoft Azure
Google Cloud Platform
Private & Hybrid Cloud Solutions
Mobile App Development – Daruma Tech designs and develops mobile apps that help connect businesses and their customers on their mobile devices. Integrating social media, augmented reality, geolocation, and more, we enhance customer relationships. We have expertise building native and cross platform apps using a variety of back-end mobile content management systems including open source and proprietary systems.
Technology expertise:
iOS, Android, Windows Universal
Cordova/PhoneGap, Xamarin, Unity
Our Certifications
Daruma Tech has proudly earned the highest standards of Microsoft's widely-recognized partnership program.
"A company with a Microsoft Gold competency has demonstrated its capability and commitment to meet the evolving technology needs of customers through solutions based on Microsoft products and technologies."

– Microsoft
ISO/IEC 27001 is the certified framework that Daruma uses to manage and protect internal and customer information. The standard represents the best practices of information security adapted worldwide.
Certification has reduced our business risk and provides an important level of comfort for our customers. We are focused on assuring that we and the companies we service have an ideal response to personal data breaches, cyber-crime, theft, viral attacks, vandalism and terrorism.
Daruma can assist your company with asset protection, developing a cyber security strategy, threat mitigation, data breaches, incident management and downtime reduction.
Earning the ISO 27001 certification demonstrates that we are invested in the people, processes, and technology. We are able to protect our clients three aspects of information: Confidentiality, Integrity, and Availability.
Daruma decided to certify our organization to ISO 20000-1 to ensure that our IT Service Management processes remain aligned with international best practice, as well as our internal needs. We continually benchmark how Daruma's managed services are delivered, how we can measure service levels and assess our performance. Coupled with our ISO 27001 certification, ISO 20000 enforces a measurable level of effectiveness and a culture of continual improvement at Daruma.
Daruma Tech achieved the ISO 20000-1. This service management system (SMS) standard takes our business etiquette to the next level by allowing us to plan, establish, implement, operate, monitor, review, maintain and improve an SMS.